Fort Clinch State Park
Fernandina Beach on Amelia Island, FL
Dec 24-25, 2020
Fort Clinch State Park is another absolutely beautiful State Park!
Fort Clinch State Park is a combination of nature and history. The roads are canopied by magnolia trees and hanging Spanish moss. There are miles of beaches and trails, as well as the Civil War fort. We really liked walking through the fort, which was built prior to the Civil War. During the war it was used by the Confederacy, but the Union forces took it over toward the end of the war.
It was pretty cold, but our campsite was in a great location and backed up to the beach. We walked down to a rock jetty that Cary climbed (of course) and I didn't (of course) but it was pretty rocky and both of us struggled with snagging of our lines, so instead we walked the beach looking for shark's teeth and shells. The beach was covered with awesome shells and the tide was out revealing about 200 ft of white sand.
The first night, Christmas Eve, we drove over to downtown Amelia Island. We ate at a great restaurant, the Salty Pelican. Cary had an amazing seafood pot pie and I had mahi and fresh local shrimp. The streets were all lit up with white Christmas lights and looked like something out of a fairy tale.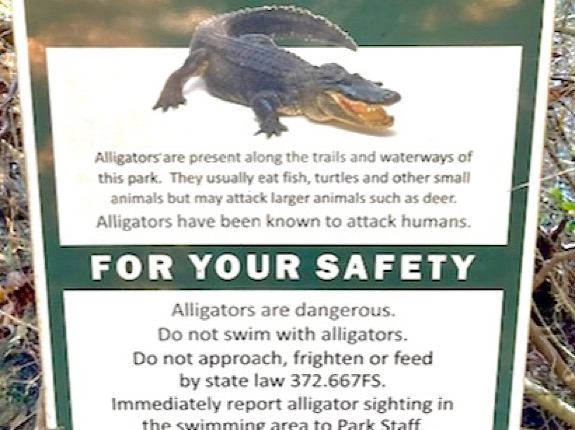 Christmas Day Cary took me on an alligator hunt that he disguised as a hike through the woods. We took the Magnolia Trail. The trail was flanked on both sides by a green bog swamp. The distance between us and the alligators was about 5 ft. I freaked out!!! I ran and kept running. The trail which was a 45 min hike took us 10 min.
On Christmas not much was opened on Amelia Island. We finally found a cool bar that was opened. And as it turns out, it's the OLDEST BAR in Florida. The Palace Saloon is not only the oldest bar but it also was the last American tavern to close during Prohibition.