Carrabelle
HoHum Campground
March 14 – April 7, 2022
Photos below…click a photo to open the photo gallery.
Carrabelle is our favorite place in all of Florida! There are many unspoiled towns along the Panhandle, but we think Carrabelle is unlike any other coastal community on the Forgotten Coast. When you arrive in Carrabelle, you immediately feel at home. Everyone is incredibly friendly and talkative (most have a great back-country drawl) and they completely make you feel like family and lifelong friends. For us, it's always difficult to leave without thoughts of coming back, for good.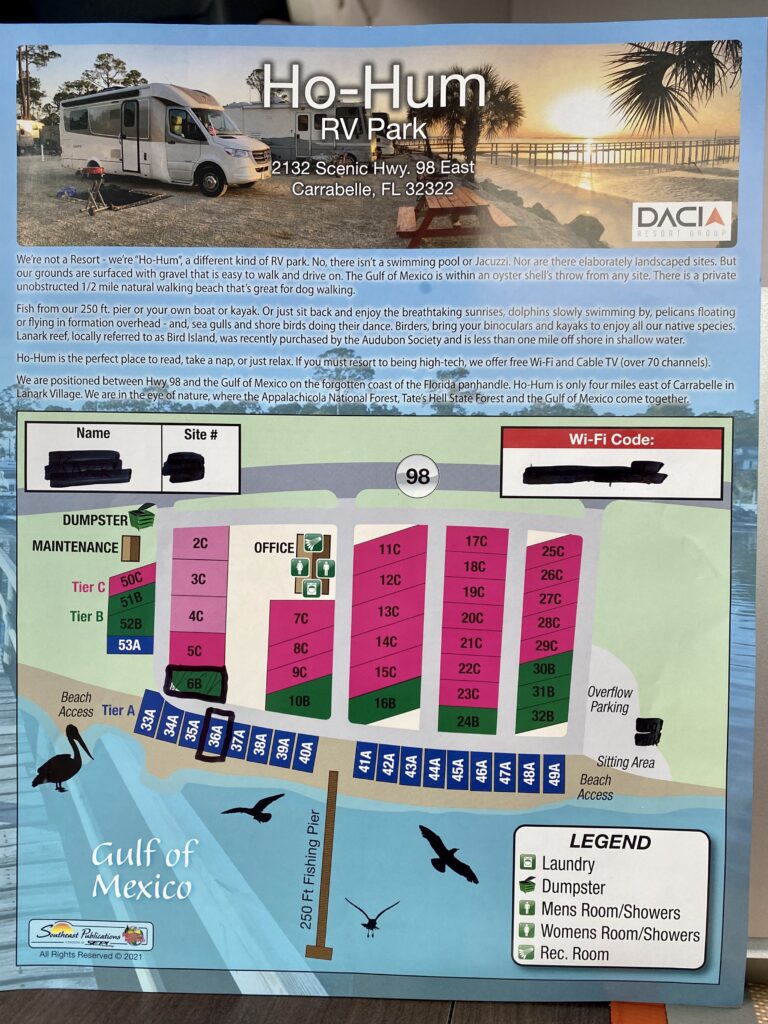 HoHum is our favorite campground! And take a look! We made the cover of their brochure!
Carrabelle lies on the converging point of three freshwater rivers with the Gulf of Mexico. It is surrounded by over 200,000 acres of parks and forests and more than 200 miles of lightly developed shoreline which includes four barrier islands: St. George Island, Dog Island, Little St. George, and St. Vincent Islands.
UPDATE ON BOAT: There were too many oil leaks the seller didn't want to concern himself with, whether to repair or reduce price, so Cary walked away from this boat. He's still looking!
Winds: High winds are a common occurrence this year. Almost daily they increase throughout the day to about 15mph. We've had a few days with gale warnings and winds gusting to 40mph.
Yesterday, we left early in the morning in the canoe to go about 1 mile across to "Bird Island" to fish. We thought we'd have a few hours before the winds picked up. We waited too long! Heading back into the wind we faced 25mph winds and 1-2 ft swells. The inflatable canoe took it pretty well, but it was a bit scary and really hard paddling! When we got closer to shore, we decided to beach the canoe and try pulling it along the beach and around piers (about 1/2 mile to the campground). We struggled past the first 2 houses when a nice man stopped us and offered to let us leave the canoe behind his house and drive us back to the campground. Just good ol' Carrabelle hospitality!
We were really grateful Juan and his wife, Shawna, were so generous! We ended up spending time with them and we're so glad we did! They're awesome people! They moved to Carrabelle in September when they both retired from law enforcement (L.A. police officers) because they had enough of the increased homelessness, crime, and danger due to LA's liberal approach to criminals. The next day when we walked back to get the canoe, we dropped off some fresh redfish. We plan on spending more time with them…maybe Fathom's Friday night!
Update on Juan and Shawna: we met for dinner at Fathom's and they invited over the next night for sunset and dinner. We had a great time! Shawna is an awesome cook and made us authentic Mexican street tacos. Summed up in one word…DE-LICIOUS!!! Shawna marinated steak and chicken and served the tacos with small, soft tortillas and condiments, many she made: pickled red onion, red and green salsa, Mexican cheese (lighter than Feta), jalapenos, sliced avocado, and more. They did not have the typical tacos ingredients (which I really can't stand) like gooey refried beans and rubbery cheddar cheese. Hopefully they'll visit us in MD and we can treat them to an authentic MD steamed crab feast!
Favorites: The feeling of "being home." The friendly people! No woke liberals! Our campground HoHum and our Gulf of Mexico beachfront campsite. Early morning walks to our honey hole and catching fish for dinner. Hanging out at Fathom's with all our new friends; Ken, Curtis, 2 Jim's, Bobby, Rick, Ernie, Amanda, Michelle, and many others. Great local bands. Great oysters. Buyin' gigantic shrimp from the back of a Shrimper's pickup truck….20 for $6 and the night at Fathom's when Curtis gave Cary a bag of fresh clams. There had to be at least 50 of them. Cary steamed them on the grill.
Fish we caught: 11 Spotted Sea Trout, 7 Redfish, 1 Trunk fish, 2 Stingray, 1 Spanish Mackerel, 1 Pinfish