Carrabelle
The
Jewel

of the Forgotten Coast

Have you ever gone somewhere and as soon as you arrive
you feel, "this is where I belong?"
This is how Cary and I feel about Carrabelle.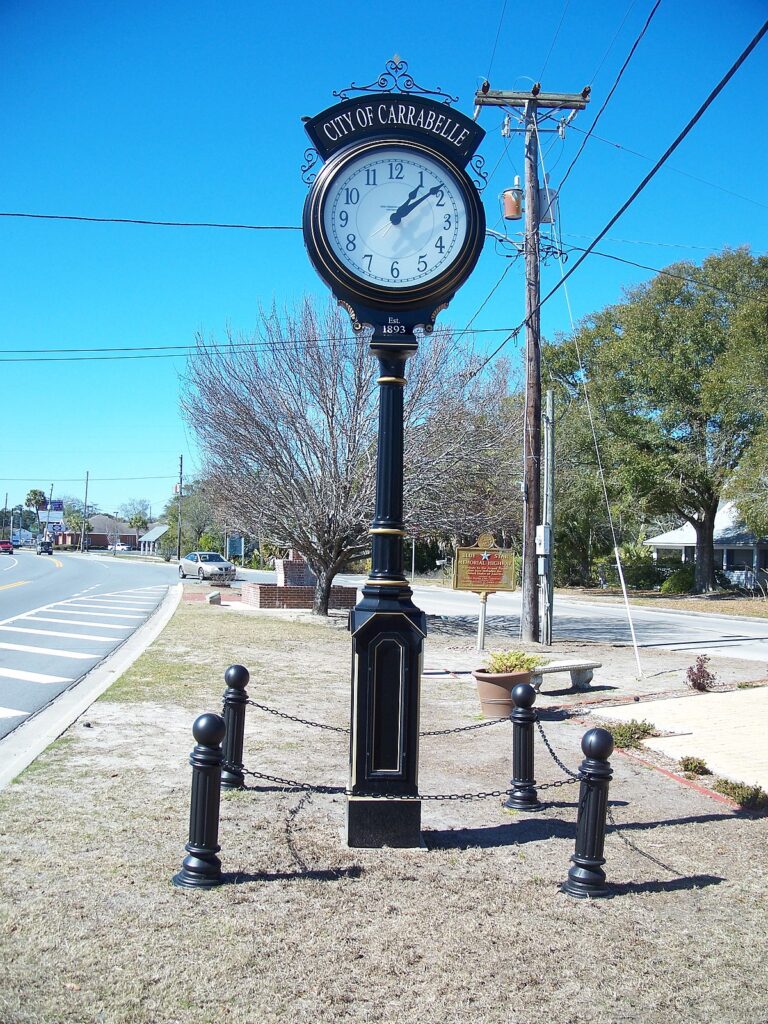 Carrabelle is located on the eastern end of the Florida Panhandle on the St. George Sound. It is a throwback to the past; a step-back in time. It's a beachtown in an uncrowded coastal community of less than 3,000 people. The residents are super laid-back and friendly. Anyone will strike up a conversation and with their mostly southern drawl, their stories are filled with laughter and memories. There are very few tourists and anyone who lives here who isn't native to the area arrived, as Cary and I did, and immediately fell in love with the town, and stayed….just as Cary and I are considering. Yup!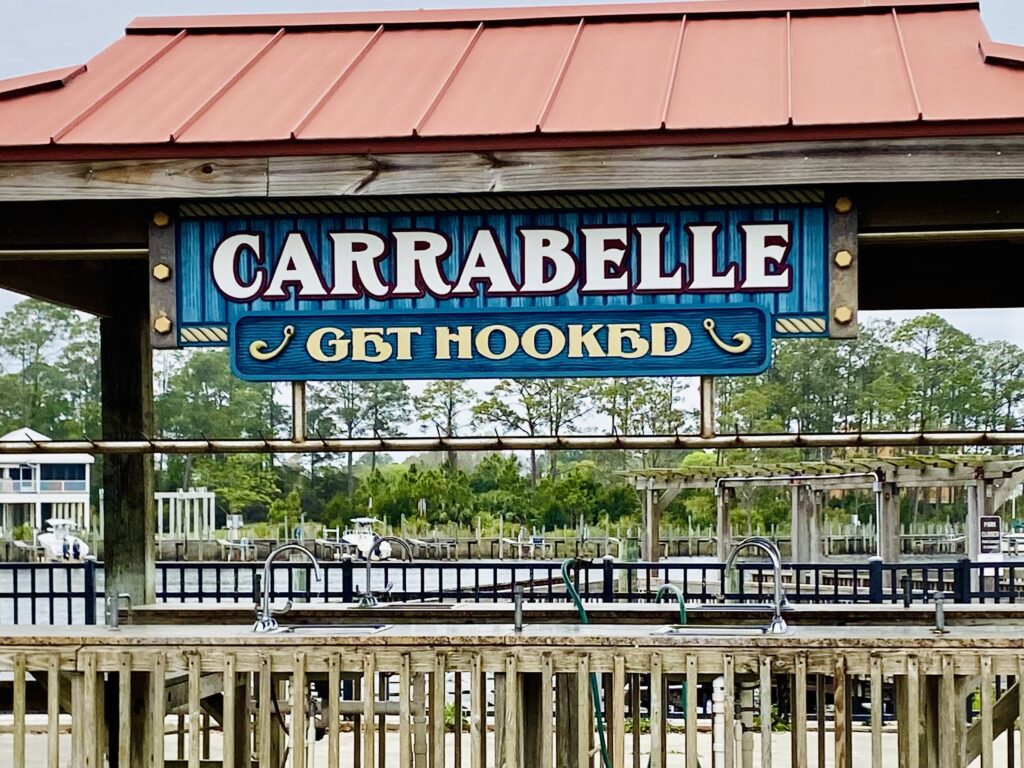 Downtown Carrabelle even has a fish cleaning station with six fish cleaning sinks and hooks to hold your fish!
Carrabelle is in Franklin County and is surrounded by over 200,000 acres of parks and forests and more than 200 miles of lightly developed shoreline which includes four barrier islands: St. George, Dog Island, Little St. George, and St. Vincent Islands.
The town is a "walkable community" and the area is the center of an outdoor paradise. Carrabelle does not have a single traffic signal. There are miles of pristine white sand beaches, fabulous fishing and wildlife is plentiful. You can spot dolphins off shore, blue herons soaring overhead, flocks of pelicans and countless other birds. Inland, there are deer, fox and even black bears.
Fishing in the waters off of Carrabelle is a fisherman's dream! You can fish year round and catch Red Drum, Pompano, Trout, Catfish, Whiting, Spanish Mackerel, Flounder, Grouper, and much much more! You can fish from a canoe or kayak, paddle to outer islands, sail, motorboat, fish from a flats boat, walk out on the sandbars, or wade in the marsh off the shoreline.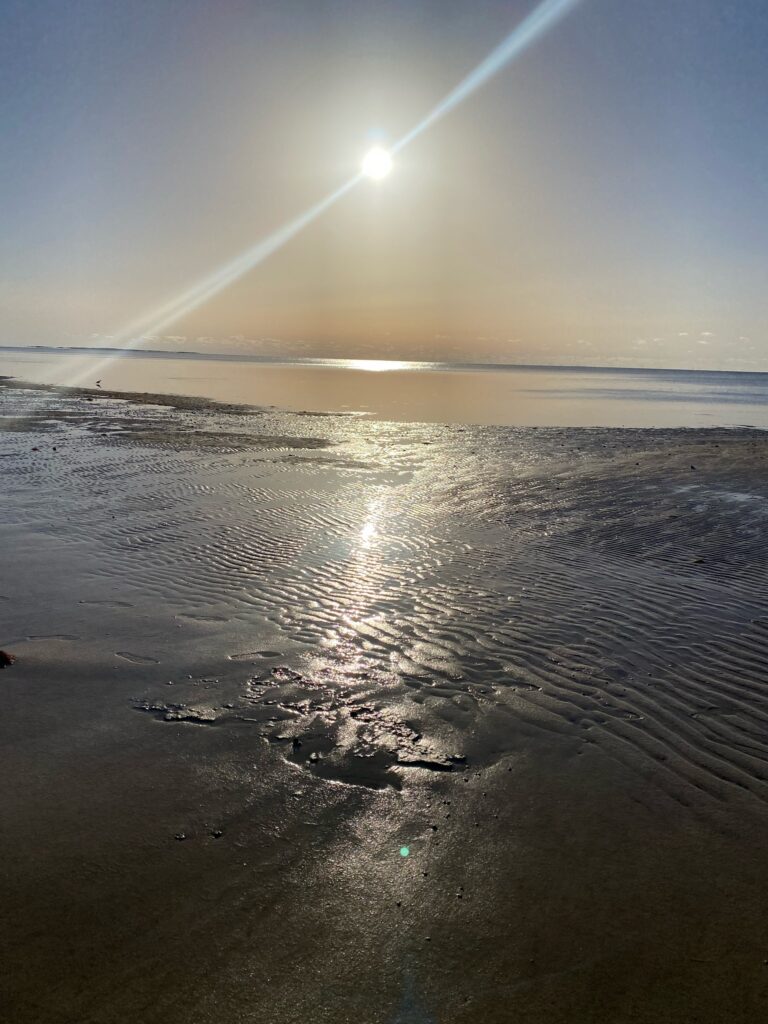 Spectacular sunrises and sunsets you have ever seen and the year-round climate could not be better. Average Temps: Spring 68 degrees, Summer 81 degrees, Fall 71 degrees, Winter 54 degrees.
The total population in Carrabelle is 2778, of which 2097 are male and 681 are female…and zero consider themselves non-gender specific 🙂 There are 560 occupied homes in and is considered one of the safest places in the nation. Over a 13-year period, there have been zero murders, 167 burglaries, 3 robberies, 8 rapes, and 53 car thefts. Disorderly conduct and speeding are their most frequent violations. In fact, Carrabelle is known for the world's smallest police station….it's in a telephone booth! There are only 3 police officers.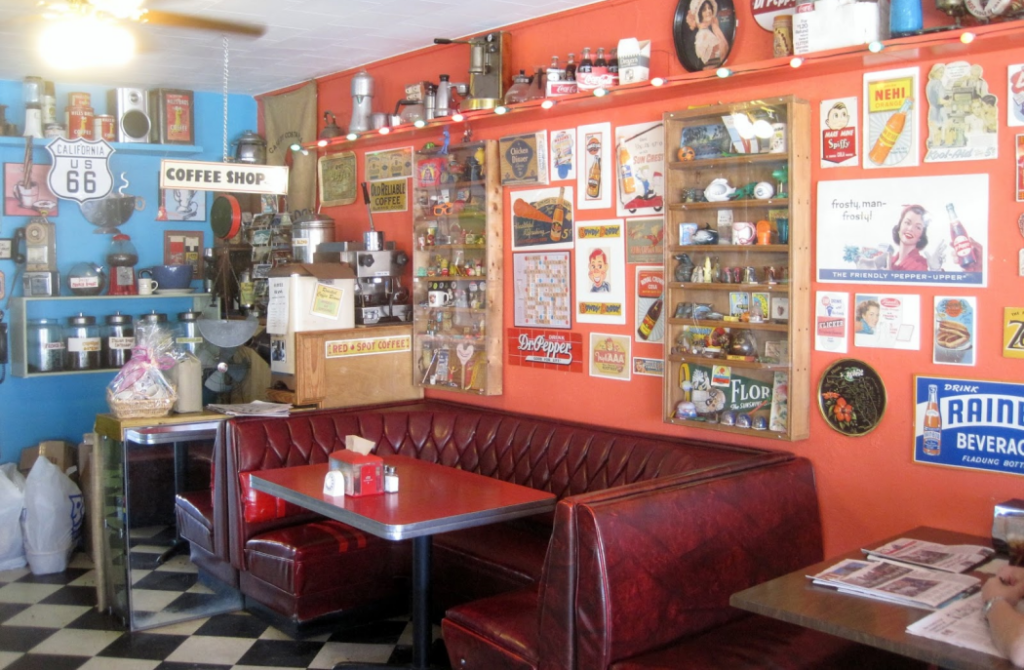 Feel like going over to the malt shop? Well Carrabelle still has an original….the Carrabelle Junction is a 1950's style malt shop and a step back in time.
The town has a fascinating past and includes a wonderful mix of Indians, shipping, bootlegging, logging and war. Troops trained on the beaches of Franklin County for the D-Day Invasion of Normandy. The Carrabelle History Museum shares the area's long-standing history and culture through Native American artifacts, regional relics and an endless supply of fascinating stories. Cary and I had no idea when we entered the museum located inside a small historic building that turned out to be the old "city hall" and used to house the judge's office and jail cells, that we would end up staying a few hours! We met Tamara Allen, one of the founders of the history museum and she was a delight to talk to. Toward the end of our visit, Tamara's husband Cal Allen arrived and joined the conversation. He told us stories of his "get aways" to Tate's Hell. Tate's Hell is a National forest with a great background story/legend. Check it out here: The legend of Tate's Hell.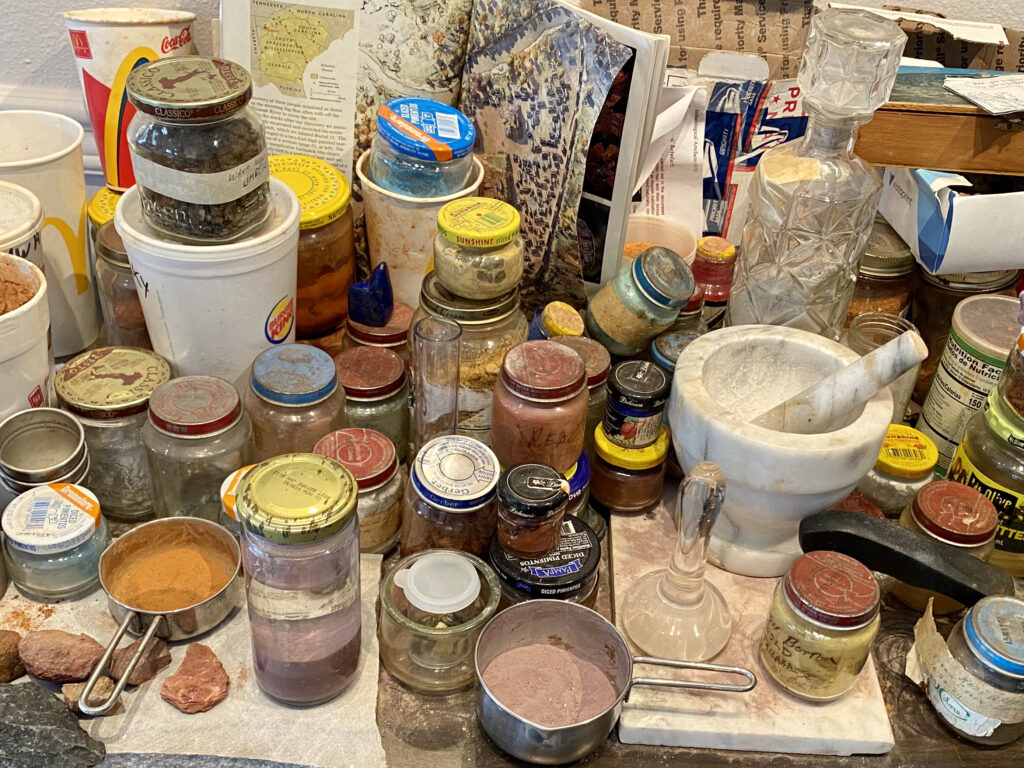 Cal invited us next door to his Coastal Fine Art Gallery & Studio. We were blown away by his talent and the beauty captured in his works. He uses Egg Tempera as his medium. He extracts earth pigments from rocks, minerals, Mt. St. Helen's ash, Georgia red clay, copper wire, etc. After crushing the stone in a mortal and pestal he boils it down to densly pigmented dust. He then combines the pigment with egg to create egg tempera.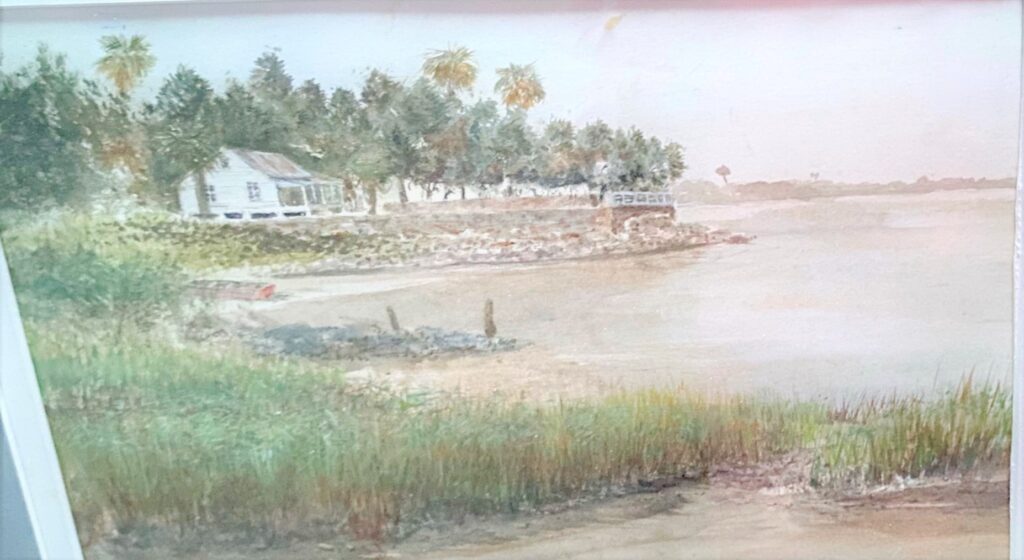 We purchased one of Cal's earlier paintings (1970's – he wasn't sure of the year) that he painted in watercolor. We don't think Cal felt it was one of his best paintings, but art is about capturing an emotion and for Cary and I it captures the nostalgia of old Florida and the serenity and peace we feel in Florida's Forgotten Coast.
When you arrive in Carrabelle, the first thing you need to do is change pace….leave the stress of work and everyday life behind you. Slow down!! And when you leave, (if you do), you will feel like you left a big part of you behind.